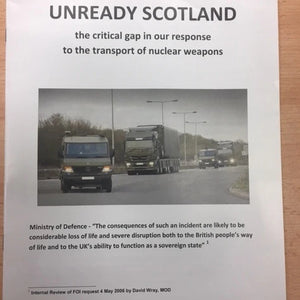 41 pages
Nukewatch UK has published a report UNREADY SCOTLAND : the critical gap in our response to the transport of nuclear weapons.
Based mainly on a survey of local authorities on routes taken by the warhead convoys conducted by MSP Mark Ruskell in the autumn of 2016, this report scrutinises the preparedness of the Scottish civil authorities to deal adequately with any incident or accident involving the convoys that transport the weapons. In Scotland the Civil Contingencies Act (2004) governs the responses of local authorities (and other "Category 1 Responders) to any threat to public safety. The Act requires Category 1 Responders to conduct a risk assessment of potential threats and to keep the public informed. None of the councils surveyed (ie those through which nuclear warheads are transported) conduct risk assessments specifically in respect of nuclear weapon convoys when travelling on their roads. Some councils claim to rely on generic assessments conducted by their local Resilience Partnership. None of the surveyed councils informs their public about the nuclear warhead traffic. There is also no evidence that the Scottish Government has taken any active step to ensure compliance with the Act.
"Unready Scotland" also examines in alarming detail the complex and challenging practicalities that would be posed for the civil authorities in the event of a serious incident such as were envisaged in the major Exercises Senator . The report concludes that there is no evidence that these authorities would be able to cope.