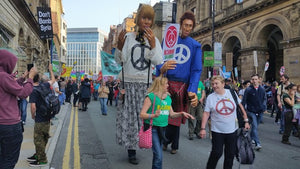 There is no better present than the gift of peace. Get your favourite person an annual membership with Scottish CND. 
Put them at the forefront of campaigning for the abolition of nuclear weapons. Scotland can set the example to the United Kingdom and the rest of the world.
When ordering please have the address and name of the gift recipient handy. Write it in the section called "Add a note to your order".
The new member will receive a gift pack with a badge, a selection of Scottish CND literature and a personalised cover letter as well as a personalised email. This correspondence will have details of who sent the gift.
During the next twelve months, they will receive the most recent copy of Nuclear Free Scotland (biannual magazine) and further communications via email or post. Various rates available.